Food That's Fast, Not Fast Food!
---

Welcome to Street Chefs
Street Chefs is a mobile restaurant located in Tallahassee, Florida. Comfort food made with fresh healthy ingredients makes Street Chefs a haven for nostalgic dining. Chef Rebecca Kelly-Manders approaches classic recipes with a modern twist. The result? A menu of familiar yet unique items like "Not Your Mama's Grilled Cheese", meatloaf your mama will be jealous of, and a black bean burger that even carnivores will devour.
Street Chefs is a mobile restaurant providing lunch and dinner to the greater Leon county area. Established in 2011, the Street Chefs Mobile Diner provides a quality dining experience that is quick and convenient.
Upcoming Events
About Chef Rebecca Kelly-Manders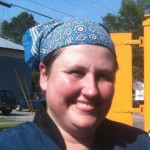 Chef Rebecca Kelly-Manders is the owner of Street Chefs food truck and has been a professional in the food service industry since 1997. Formerly a general manager of a national Quick Service restaurant, she was awarded GM of the year in 2009. She has worked in corporate kitchens, local catering companies and also teaches private cooking classes.  In 2017, she launched the REfire Culinary program to assist those with felony convictions in obtaining employment. Rebecca is a hamburger connoisseur and devout Mets fan.